Hotels for cyclists
in Mallorca
At MixHotels we wish you to have a unique experience in Mallorca. We are happy to be able to offer various cycling friendly hotels and apartahotels with all the necessities to be able to practice this sport. Our installations are perfect for both amateur and professional cyclists, providing you with great professionals and services aimed at making your cycling holiday completely trouble free.
BOOK YOUR BIKE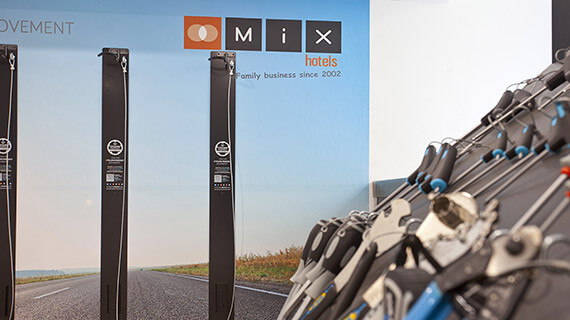 Los The Apartments BR. ( Bahia Real ) can be found in a privileged area. Situated on the first line of the Playa de Palma beach where the best bicycle services can be found. The Apartments BR have been totally renovated and adapted and have a fully equiped cyclists centre, which boasts a fully equiped work room with the latest in tools and technology. All that is necessary to keep your bikes up to standard. We also provide a bicycle renting service. Everything necessary to make you stay in Mallorca unforgettable.
Mallorca is the synonym of sun, beautiful scenery and magical places. An authentic paradise to be easily discovered by bicyle. The island satisfies both professional and more experienced cyclists as well as amateurs. It's climate being responsible for the varíed and exceptionally beautiful scenery making Mallorca one of the best destinations for all types of cyclists.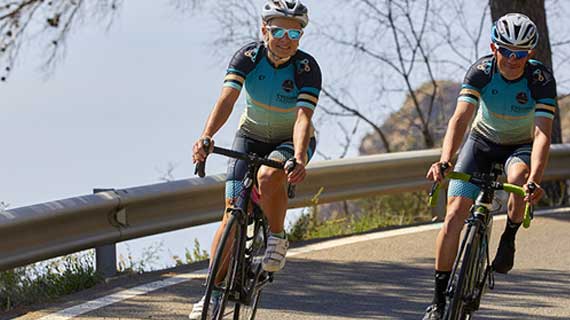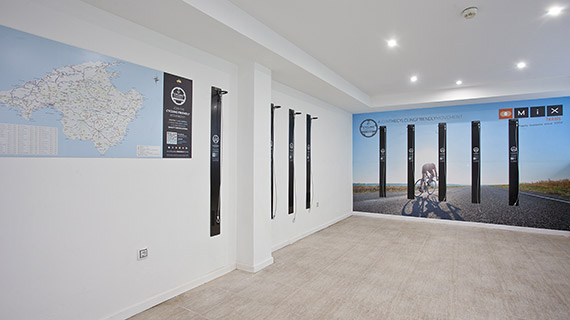 The best routes with Mix Hotels
On the island you can find a multitude of routes to satisfy all ages and levels of cyclists. Starting with quiet roads with smooth inclines and firsts class ports and building up to the Sierra de Tramontana, declared a world Heritage by UNESCO, consisting of a mountain chain of 10 peaks 1000 mtrs high with a beautiful view over mallorca. The perfect place to practice cycling a contemplate the island from a different angle.
Leaving from the Apartments Mix BR you can take the Cala Pi route, riding along secondary roads and passing beautiful, natural areas. The Faro de Ses Salines, an important Mallorcan land mark...Faro meaning lighthouse or the route to Tres Eremites which leads through Campos, Porreras and Felanitx and more renown places such as the Sanctuaries de Cura are only a few of the many exceptional places combining both level roads and interesting slopes.
Whatever your level of expertise, contact us and you will discover, while pedaling, unimaginably beautiful places. All the routes we offer are designed exclusively by MixHotels.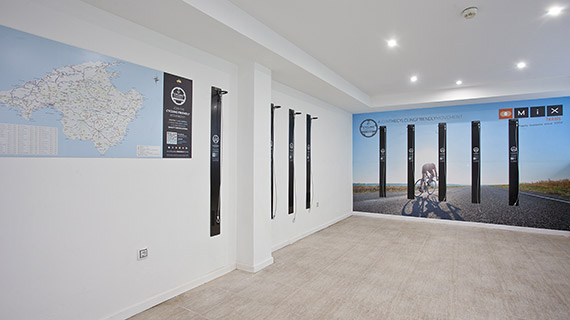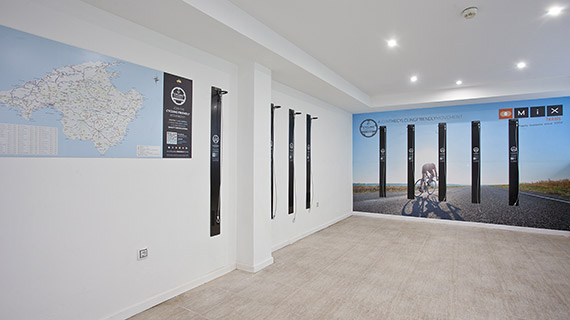 VISIT OUR ROUTES
*Please contact us for any necessary cycling related technical service at: booking@cycling-friendly.com or call +34 971 12 67 11